The In.Cubo – Incubator of Innovative Business Initiatives was created by ACIBTM – Association for Technology Incubation Center of Minho. More than productive equipment is a strategic focus on entrepreneurship as a key area for regional development.
The Association for Technology Incubation Center of Minho (ACIBTM) was created on March 1, 2007, establishing itself as an association of private, nonprofit, headquartered in the municipality of Arcos de Valdevez.
The Association has engaged in the construction, management and operation of the Incubation Centre of Technological Base of Minho, as well as creating conditions for the development of Business plans and to host projects of I&D, particularly for companies based technology that foster innovation and propagate within the economic base installed within its territorial area of ​​coverage.
Among its main activities, in addition to the management, operation and administration of the integrated equipment Incubation Center stand out, among others, the following:
Provision of support to technical, legal and financial level services as well as development of training activities of Human Resources;
Promotion of I&D activities in their areas of expertise and support to the respective implementation from the business base;
Provision of consultancy and technical support to individuals and legal entities, including units of central, regional and local government services;
Promoting, developing and supporting the creation and activity of infrastructure technology support and business centers of advanced technologies;
Detection and selection of funding sources, with a view to scientific and technical activity of its members.
The organizational DNA In.Cubo structured around the following elements:
Public-Private Partnership;


Organic Nature (learning organization, constantly evolving);
Agent of Change (promotes a new operational culture in the territory);
Platform for Action (does happen).
Video of Inauguration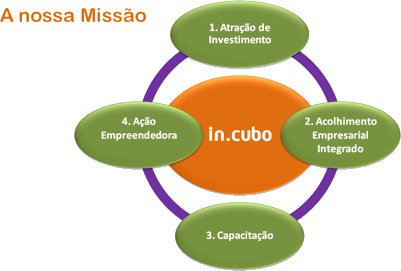 General Purposes
Promote a more entrepreneurial Regional Community that values ​​risk, innovation, learning and corporate culture;

Encourage and support the sustainable creation of new businesses, skilled employment and the generation of added value in the Minho – Lima;
Contribute to the production diversification and strengthening the competitiveness of existing businesses;

Operate as a broker and facilitator in the development of R & D + i solutions for enterprises throughout the region.
Specific Objectives
Conduct training and entertainment activities in entrepreneurship and cooperation area dedicated to broad audiences;
Provide value-added business services to companies and existing institutions in the region;
Acting as an interface between business and the universities and R & D institutions in the region, facilitating the transfer of technology and knowledge that could corporate exploitation;
Promote the participation of the Incubator and established firms in collaborative networks ( national and international ) in it;
Promote collective enterprise efficiency gains in territory;
Implement a Strategy for Territorial Marketing Minho – Lima , geared towards promoting economic region and to attract investment.
Associates:
Municipality of Arcos de Valdevez
Polytechnic Institute of Viana do Castelo
Professional High School of Alto Lima
CENFIM – Training Centre of Metallurgical and Metalworking Industry
AIMMAP – Association of Industrial of Metalworkers, Metalworking and Allied of Portugal
CEVAL – Business Council of the Vales do Lima e Minho
ARDAL – Regional Development Association of Alto Lima
COINDU – Components for the Automotive Industry, SA
ACIAB – Commercial and Industrial Association of A. Valdevez and P. Barca